This post contains affiliate links, which means I will make a commission at no extra cost to you should you click through and make a purchase.

Elegant Christmas door wreaths dress up any door (or wall) for the holidays. Welcome your guests with a gorgeous wreath hanging on your entrance doors. Brighten any room in your home with a Christmas wreath hanging on your walls.
You can never have too many wreaths, in my opinion. Hang one or more elegant Christmas door wreaths at your home at Christmastime, for festive decor accents.
You have a beautiful selection of Christmas wreaths to choose from here, too. You'll see some fresh wreaths and some artificial. Some are pre-lit and pre-decorated, while others are ready for your own personal touch.
Adding unique Christmas decorations is as easy as letting us do all the searching and you pick out the decorations you want.  Be sure to pick up some handy Christmas wreath storage bags and boxes to keep your artificial wreath looking great year after year.
If you enjoy decorating the interior and exterior of your home for the holiday season, consider including some Christmas wreaths in those decorations. You'll be happy that you did!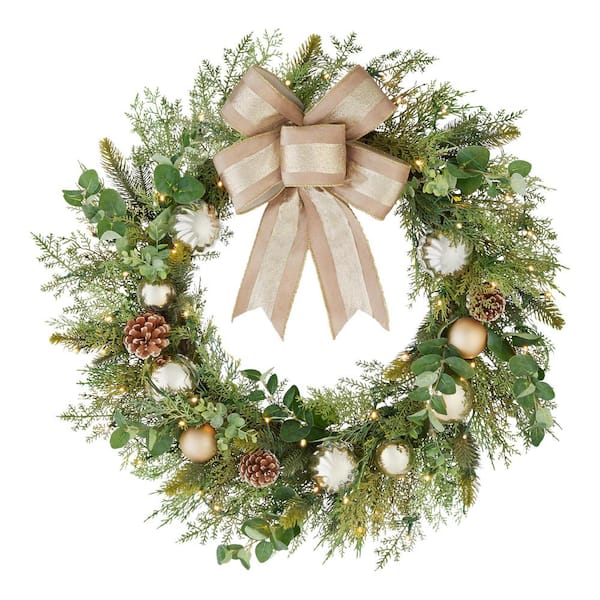 30 in. St. Germain Battery Operated Mixed Pine LED Pre-Lit Natural Artificial Christmas Wreath w/TimerHome Depot
Elegant Christmas Wreaths Handmade By Artisans
The most elegant Christmas wreaths of all are the handmade ones from Etsy, don't you think?  They are all so beautiful I don't know which to pick.  Some are made to order and some are one of a kind.  In fact, some of the merchants allow choice of trims (you select in drop down), so check those out too. Better get your order in quick because they go fast!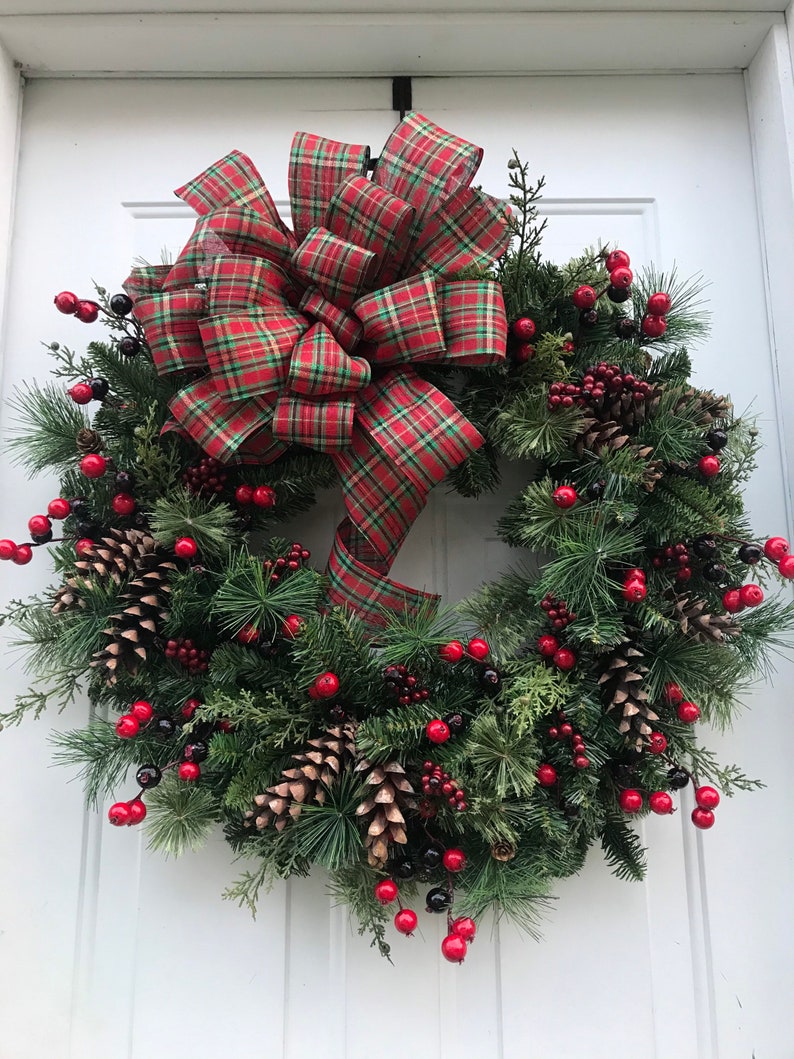 Christmas Wreaths For Front Door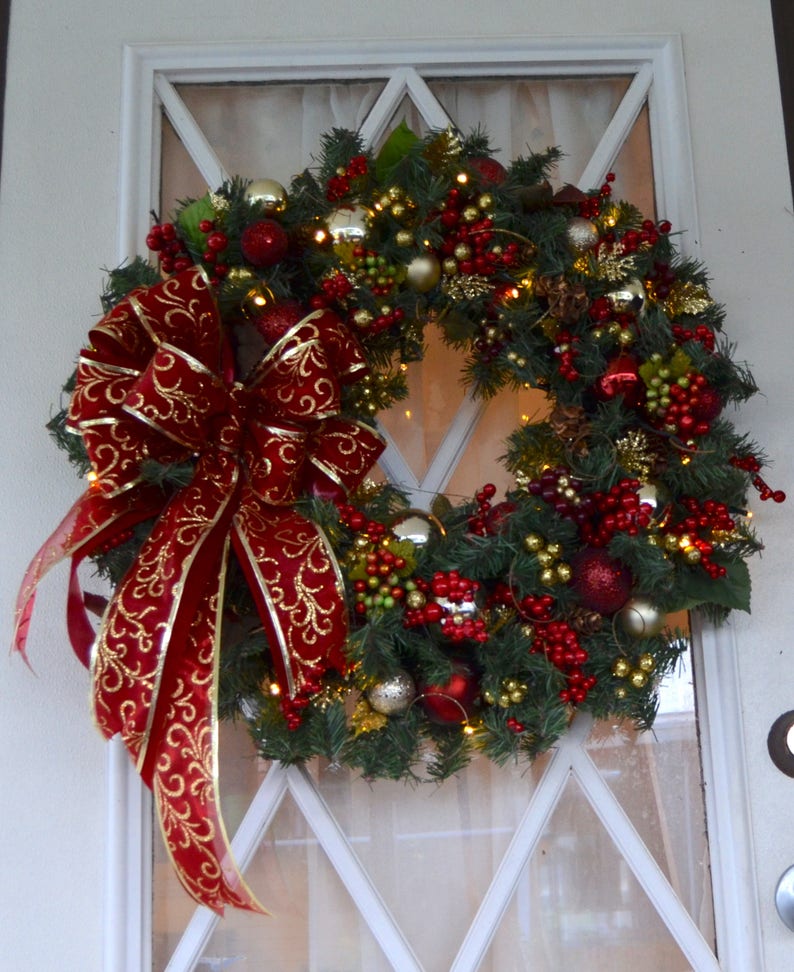 Christmas Wreath for Front Door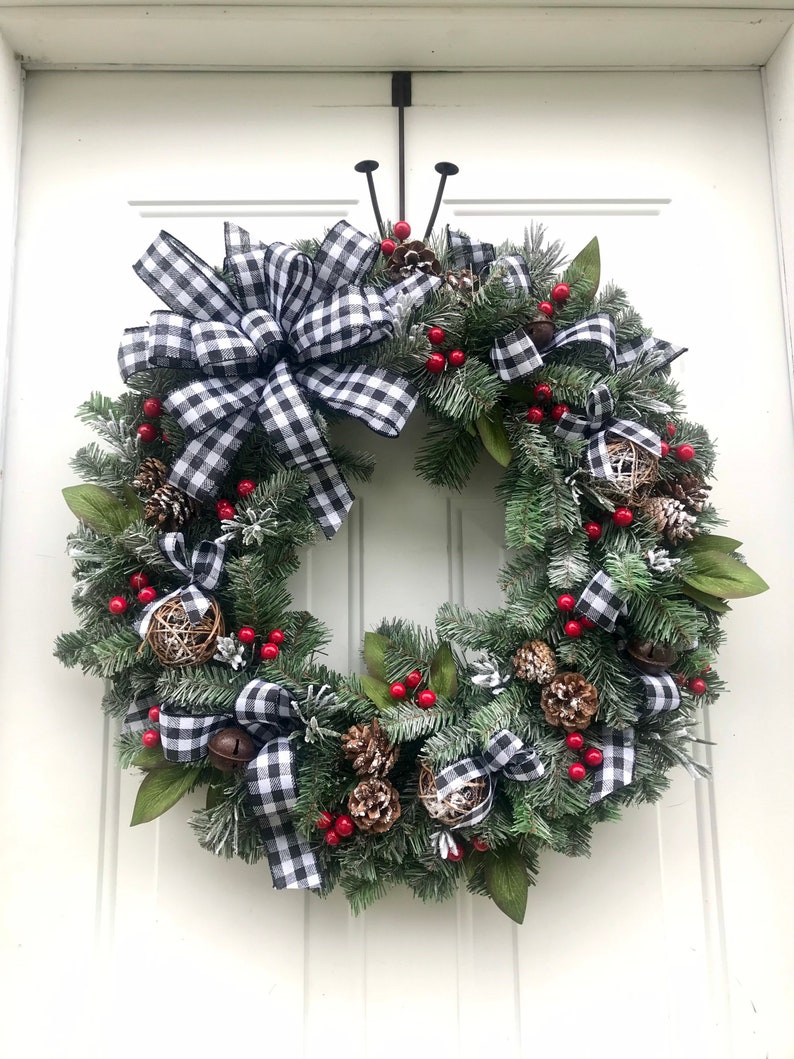 Christmas Wreaths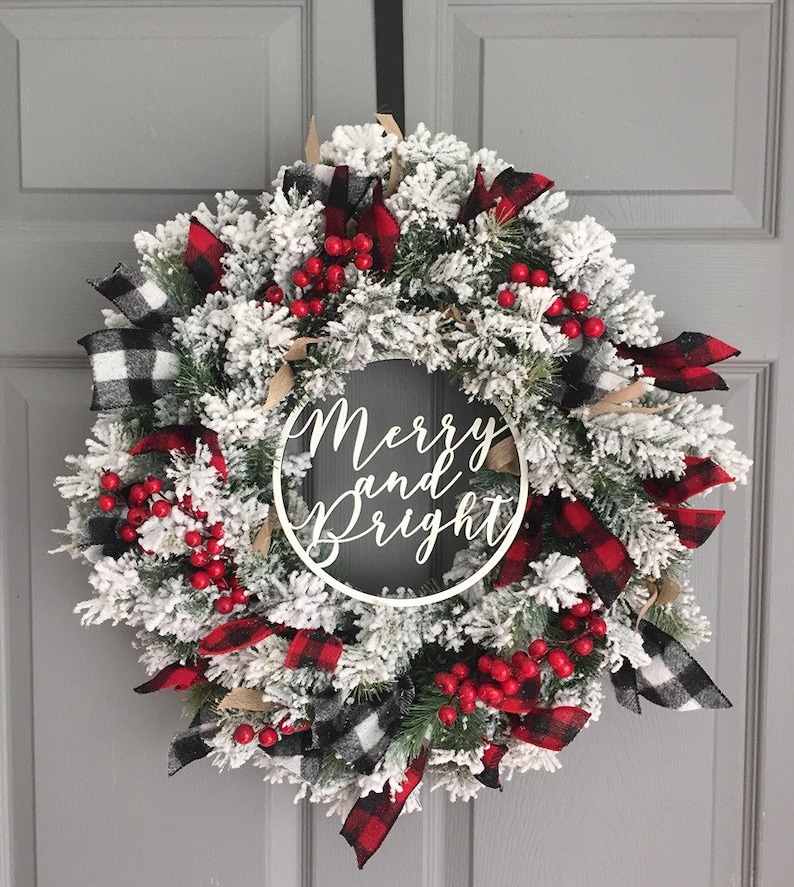 Christmas Wreath – Farmhouse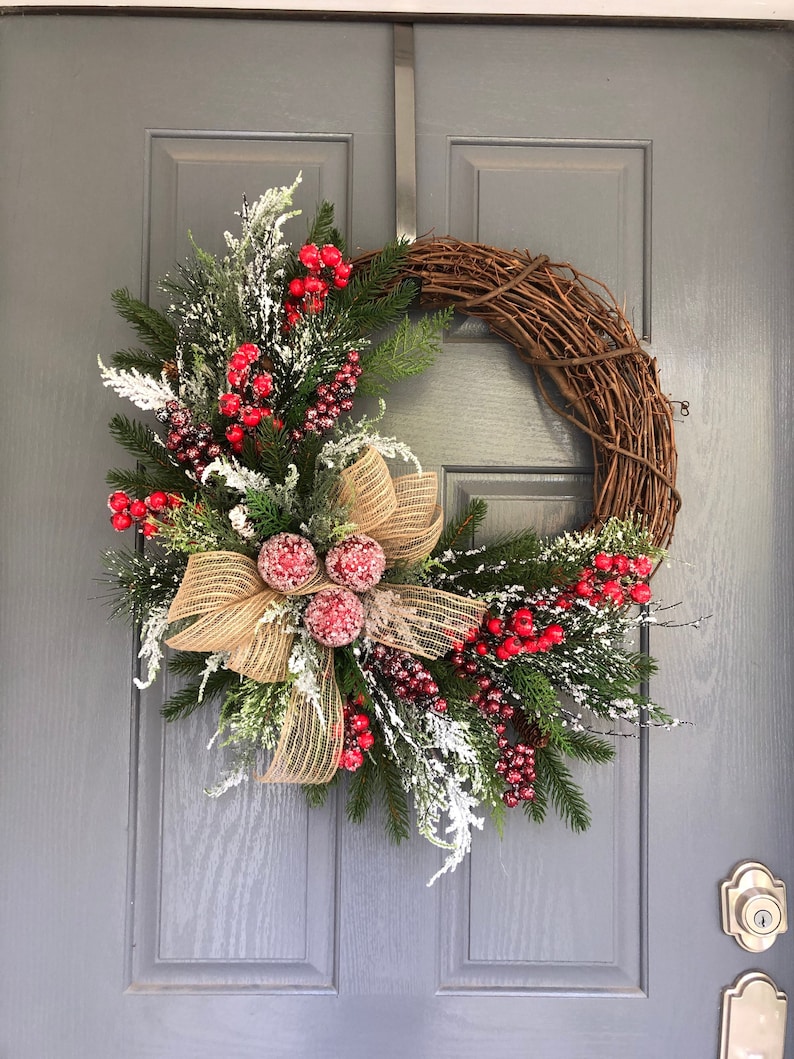 Christmas Wreath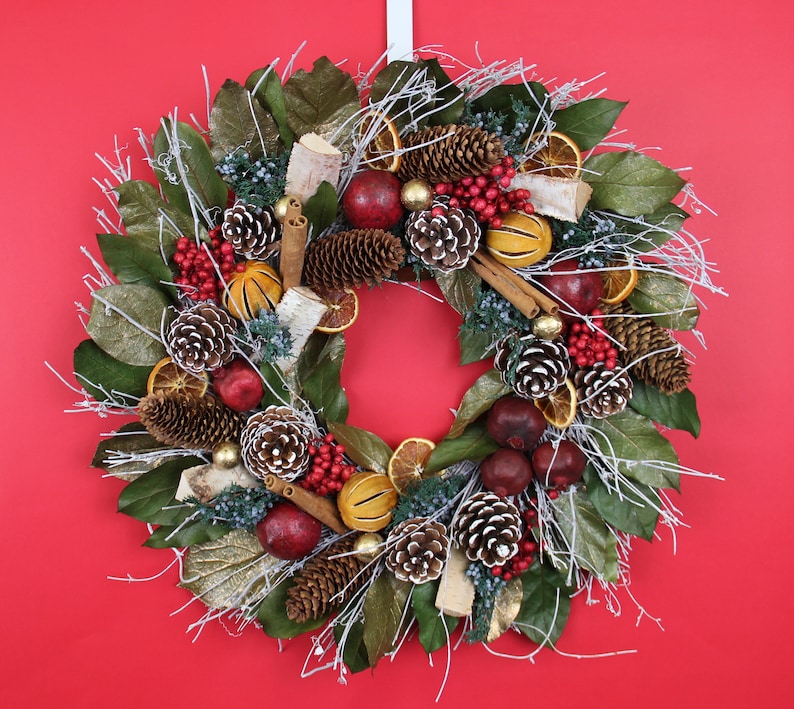 20″ Pomegranate Citrus Spice Holiday Wreath

Wintry Pine Elegant Christmas Wreath with Cones, Red Berries and Snowflakes
National Tree Wintry Pine Wreath, 24″
Trimmed with pine cones, red berries and snowflakes, this Christmas wreath is ideal for outdoor or indoor use. Can you just see this over a fireplace mantle or on your front door?
This wreath measures 24″ in diameter, and is pre-lit with 50 UL listed pre-strung low voltage Soft White LED battery operated lights. The colors look fantastic together, don't they?
This also makes a lovely gift for family, friends, and co-workers! If you know a newly married couple, this beautiful Christmas wreath would make a thoughtful housewarming gift.
Check The Craft Stores For Christmas Door Wreaths Too
Remember that the craft stores carry Christmas home decorations too. You never know when you'll catch a deal for that gorgeous wreath, right? My tip is to shop online for home delivery just in case your local store doesn't have what you want in stock.
24″ Christmas Wreath with Red & White Ornaments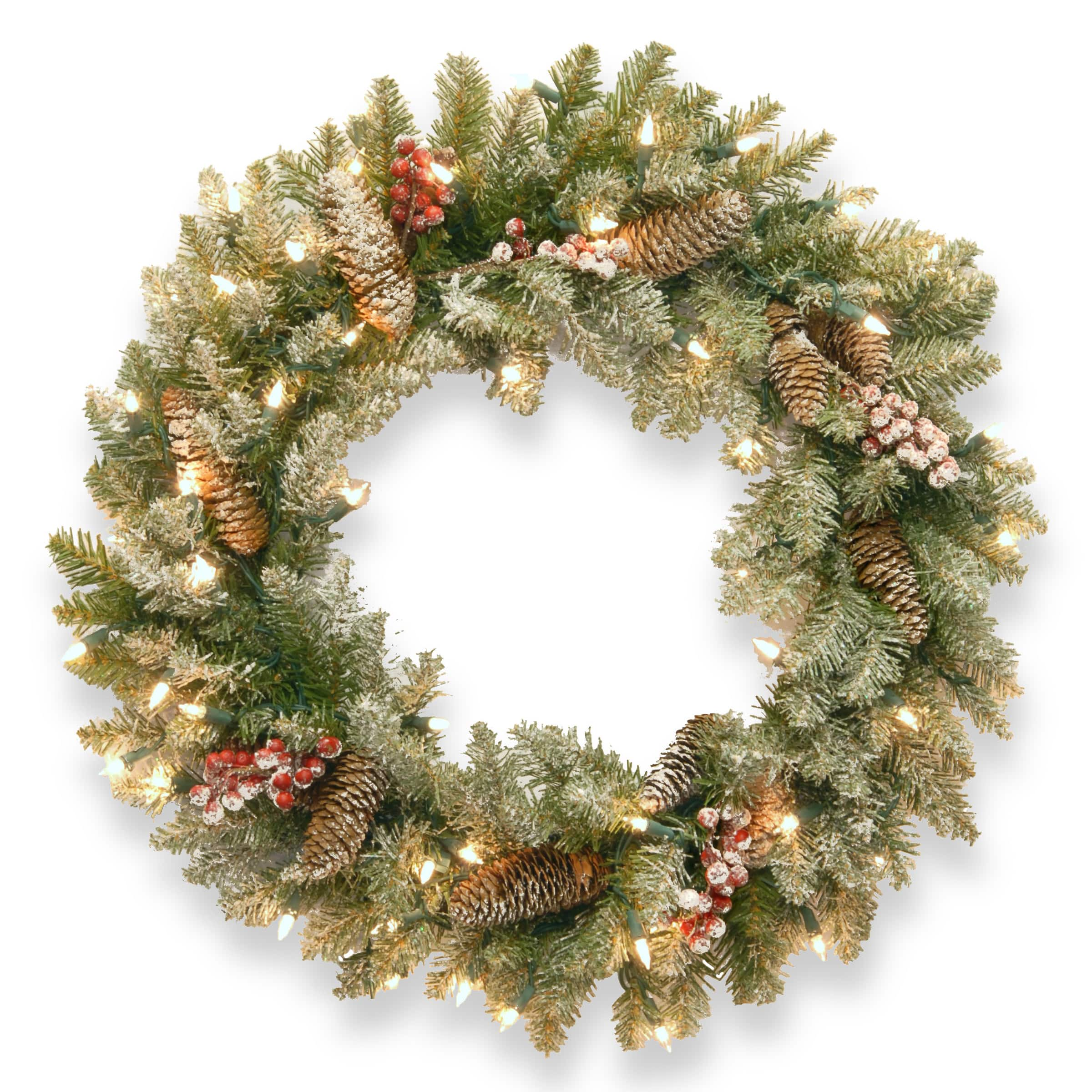 30″ Dunhill® Fir Wreath w Snow, Red Berries, Cones & 50ct. Clear Lights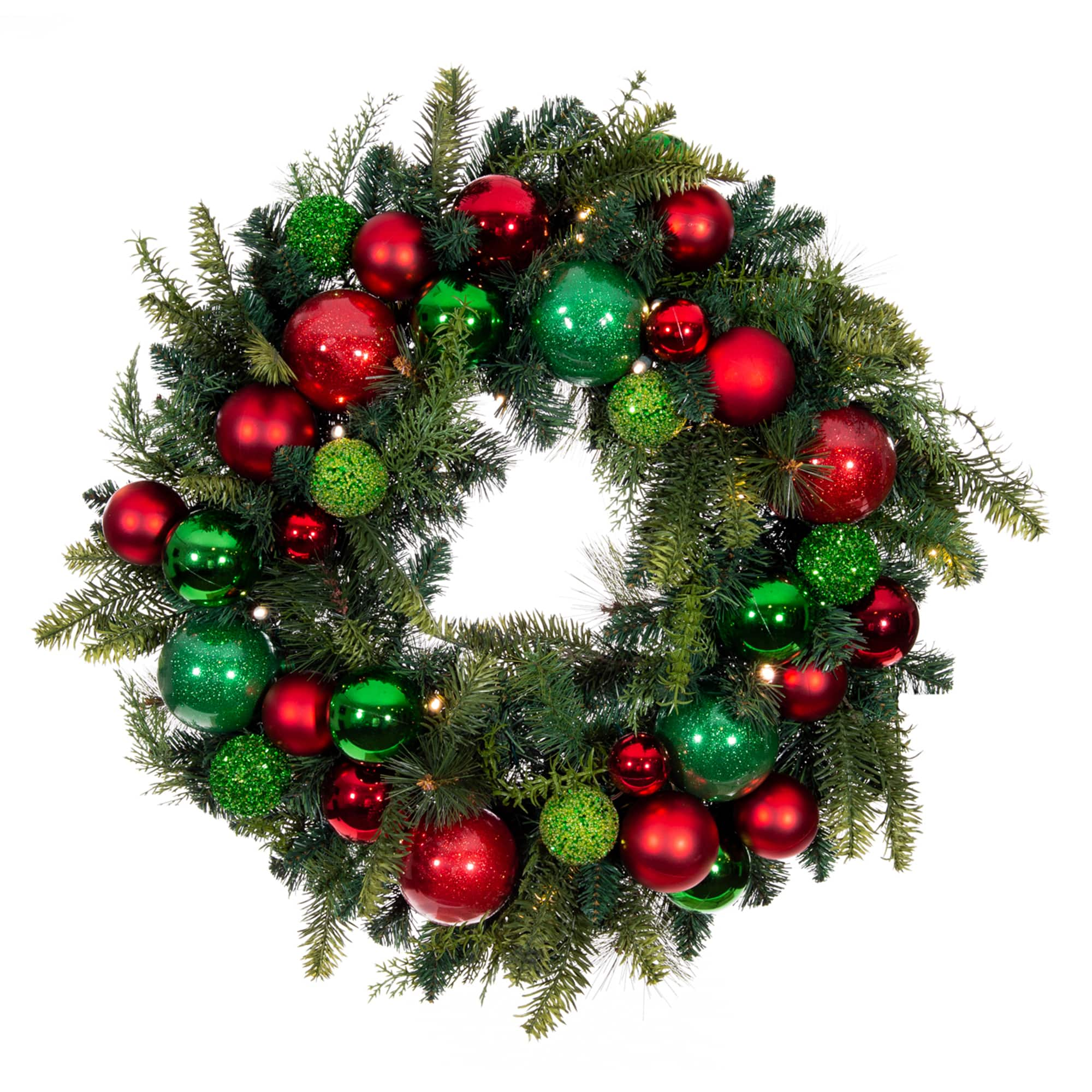 Village Lighting 30″ LED Christmas Cheer Wreath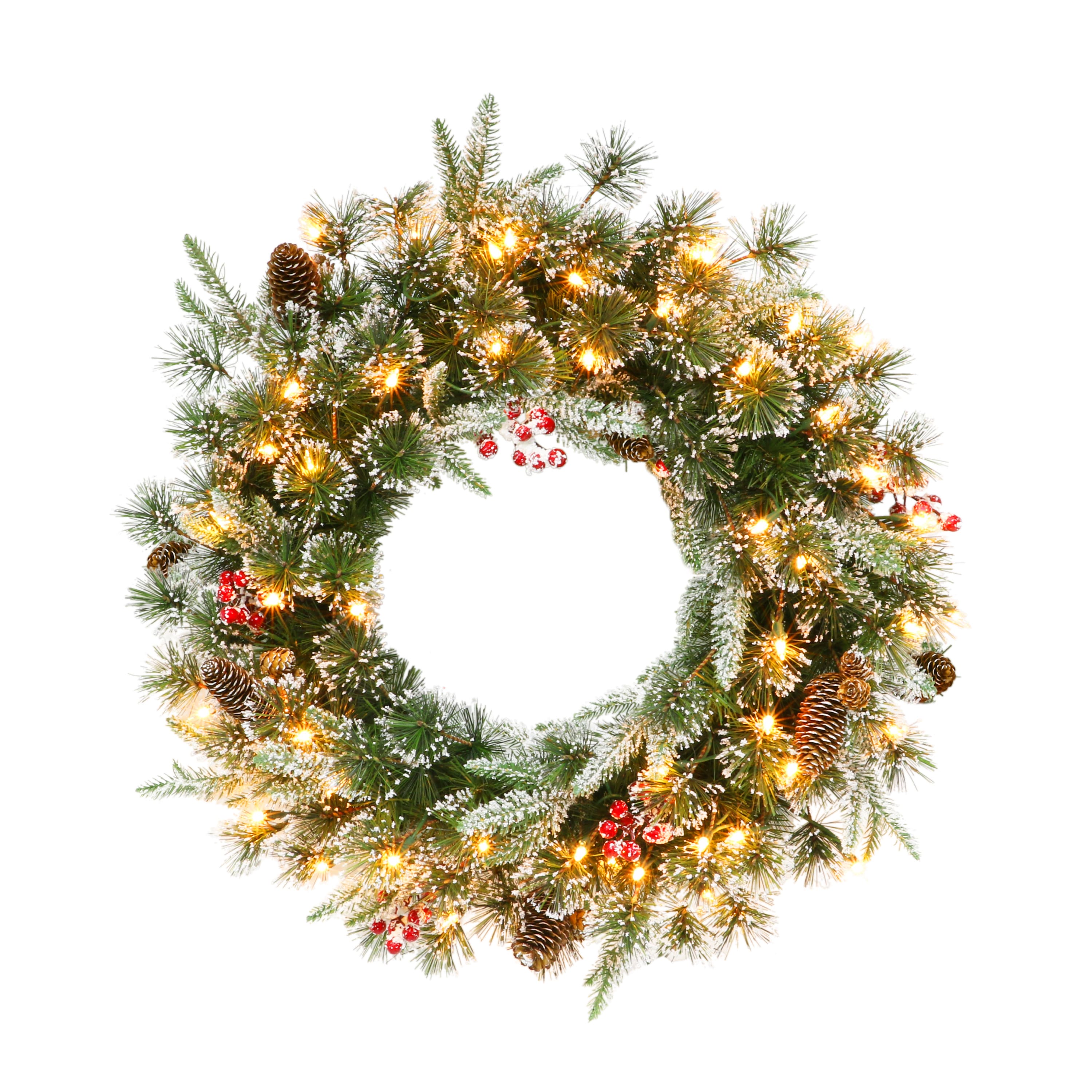 24″ Pre-Lit Pine, Cones & Red Berries Wreath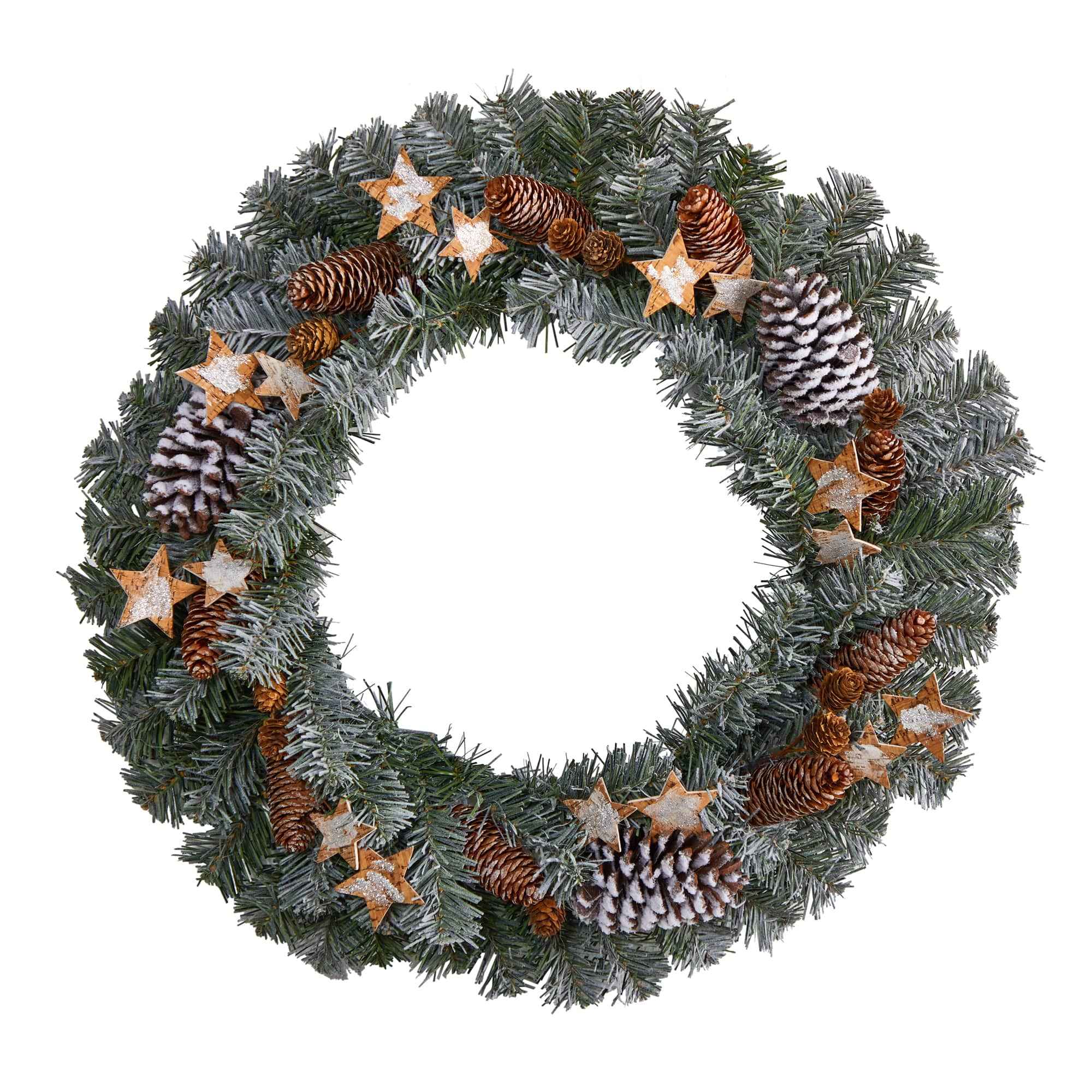 24″ Winter Frosted Stars & Pinecones Holiday Wreath
I just love the Christmas door wreaths at Joann. When choosing a door wreath, know the dimensions of your door and whether there are other decorations to consider for the area. The most popular sizes are the 24″, 30″ and the 36″. If you're really adventurous there are 40″ and larger wreaths too, if you have a humongous door!
National Tree Red and Gold Ornament Wreath 30″JOANN
National Tree Decorated Christmas Wreath with LED Lights 30″JOANN
National Tree Frosted Silver Pine Wreath with LED Lights 30″JOANN
National Tree Glittery Pomegranate Pine Wreath with LED Lights 30″JOANN
National Tree Decorative Elegance Wreath with Clear Lights 36″JOANN
National Tree Silver and Blue Ornament Wreath 30″JOANN
National Tree Frosted Berry Wreath with Clear Lights 30″JOANN
Christmas Door Wreaths With Lights
These pre-lit Christmas wreaths not only add festive Christmas spirit to your home during the holiday season, but they will add soft warm light where ever you place them. Each wreath comes with lights already on it, and is ready to hang. Aren't they pretty?
Poinsettia Lighted Christmas Door Wreath
Pre-Lit 30″ Champagne Gold Christmas Wreath
30″ Prelit Christmas Wreath with 80 Warm Lights Timer
30″ Lighted Christmas Wreath Red Magnolia
Pre-Lit 30 inch Sweet Candy Lighted Christmas Wreath
30 Inch 100 Lights Pre-lit Artificial Christmas Wreath
Pre-Lit 24 inch Elegant Champagne Gold Lighted Christmas Wreath
30 inch Traditional Red White Large Lighted Christmas Wreath
Don't Miss Wayfair At Christmas
30″ Ornament Christmas Wreath
30″ Ornament Wreath

What a beautiful ornament Christmas wreath. It's created with red and gold ball ornaments and trimmed with red lace ribbon.
Unlit, the elegant Christmas wreath is 30″ in diameter. Hang it in the entry way or over a fireplace mantle. Where ever you place the wreath, it will fill the area with warmth and beauty. You can use this wreath indoors or out.
It's such a pretty wreath; it has just the right amount of glitz & color. Know someone who's just bought a new house? A Christmas wreath would be a lovely housewarming gift.
Whether you just want to buy this 30″ Ornament Christmas Wreath or shop for your entire home, Wayfair has a zillion things home.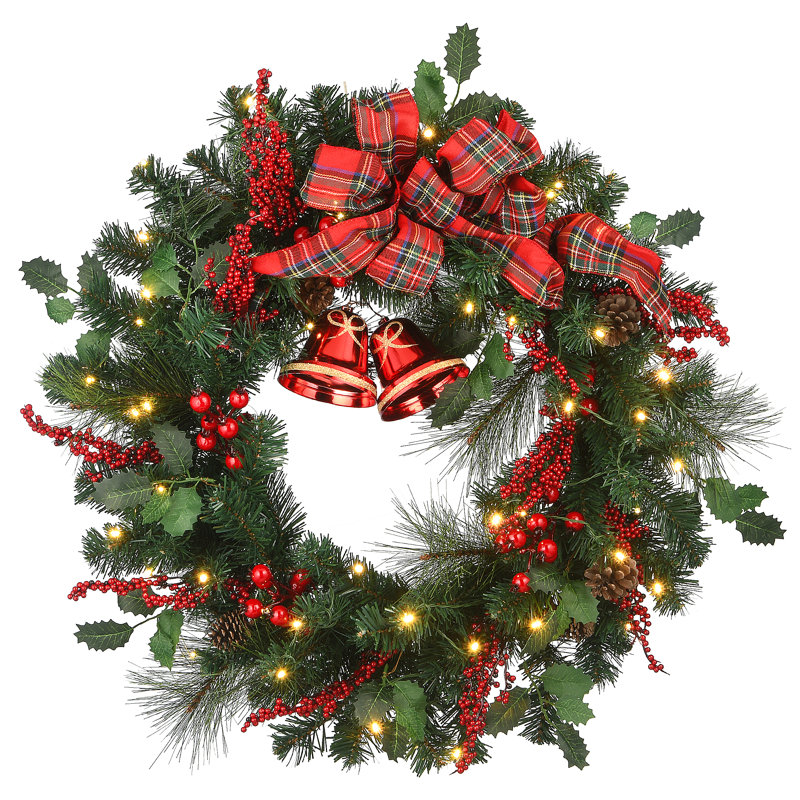 Decorated 30″ Lighted PVC Wreath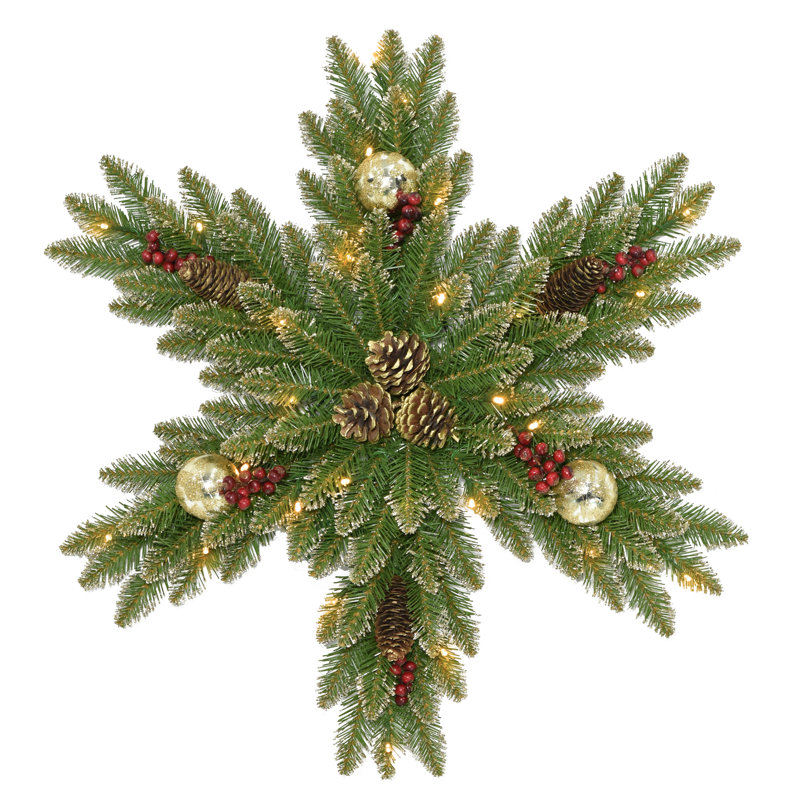 Dunhill Fir 32″ Lighted Wreath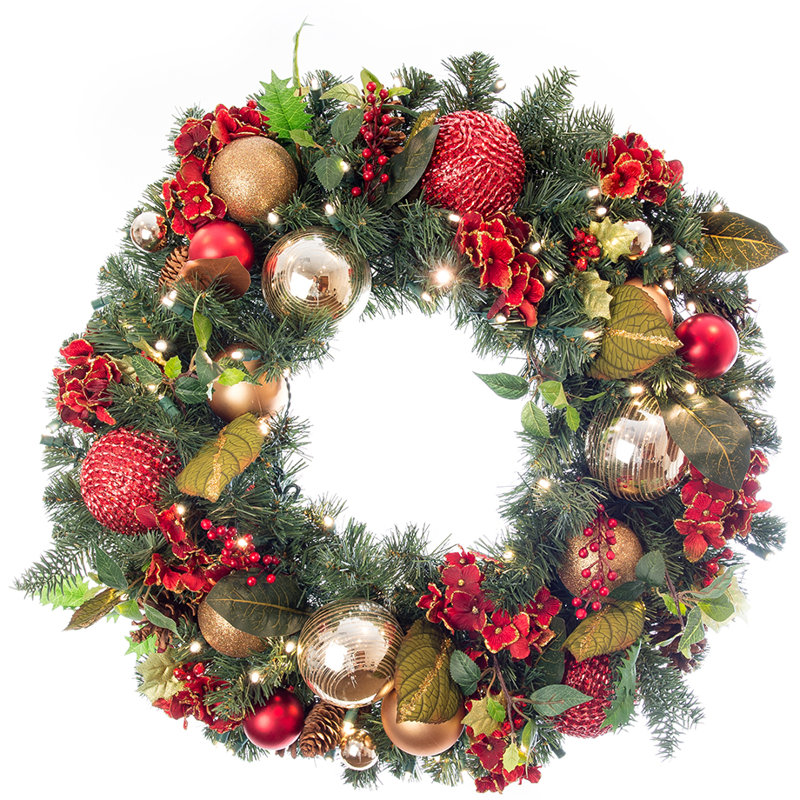 Scarlet Hydrangea 30″ Lighted Wreath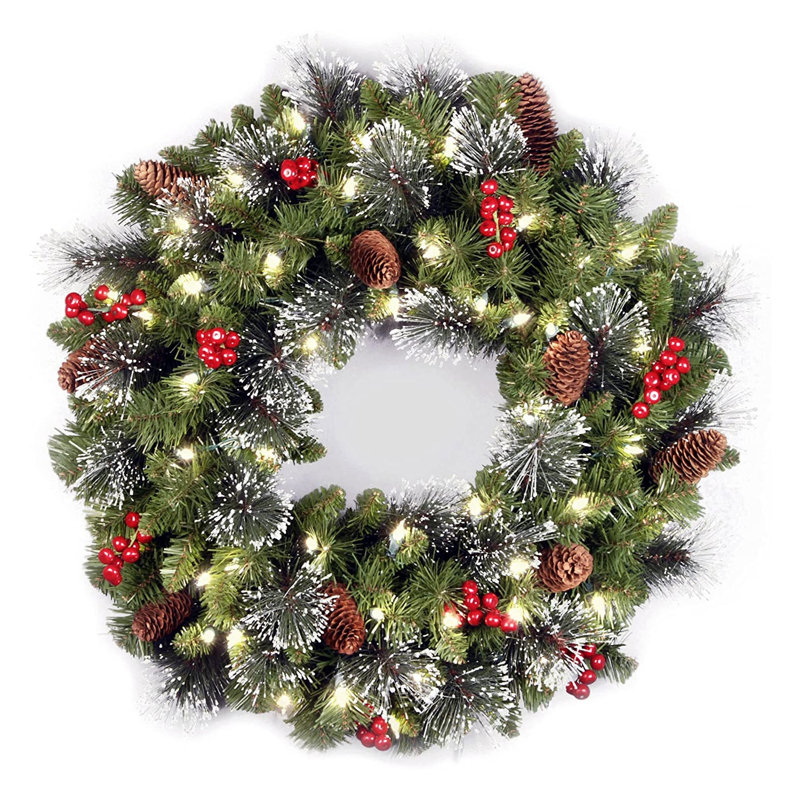 Spruce Pre-Lit Christmas 24″ Wreath

Find Some Elegant Christmas Door Wreaths On eBay
These unique and gorgeous fresh Christmas wreaths are ready to dress up your home or office for the holiday season! You'll find a great selection of elegant Christmas wreaths below.